General Info
Name:
Jessica Welsh - May   
Age:
48   
Gender:
Female   
Appearance:
Spoiler:
Main OC:
April May   
Relation:
Jessica is the Step mother of April May   
Personality:


Jessica is Manipulative, she convinced April's father and April that she was a kind hearted person.

She is cruel and un-caring, the only person she holds love for is herself and her biological daughter

She is wicked, she will gldly torture human or pokemon to get to where she wants to be

She is intelligent. Smart enough to understand Aprils fathers notes and get away with murder

She is driven by her goal. What that is remains a mystery

History:
Before being married to April's dad Jessica was a crooked bounty hunter who captured pokemon for money. She sold rare pokemon to labs and groups that did experiments some you may know TeamRocket and the famous pokemon hunter J are only two of her clients. She was believed to have been dead having disguised herself.
She had a child with some man whom was unkown and ochestrated the car crash that would claim April's mothers life. her entire plan had begun and she owuld soon be married to Aprils father. She wanted money she wanted power and marrying one of the most wealthiest and smartest men in Kalos gave her it all. She knew of his research and intended to steal it. She poisoned her husband with Arbok venom. April had to flee she had found out about this and now Jessica would hunt down her step-daughter to get back the book of legends the research her husband had been working on. As a dark Aura master she had powers that no one knew off.  
   Pokémon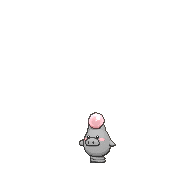 Pokémon:
Spoink   
Nickname:
N/A   
Gender:
Male   
Level:
13   
Moves:
Start - Splash - 7 - Psywave - 10 - Odour Sleuth - EM - Mirror Coat - TM - Charge Beam   
Ability:
Own Tempo thus this pokemon can not be confused.   
Personality:
Spoink is a rather adorable pokemon who uses this to his advantage. He is a disgrace to spoink everywere due to its dark attitude. It is one of the few pokemon that do not need to be controlled by the Dark Aura of Jessica for its own soul is dark. It is crude and always laughs at misfortune. Using its psychic abilities it will caus minor pranks to annoy people.
Legendary Pokemon Obtained
-
-
-
-
-
Permission for Unique NPC:
   General Info   
Name:
Maki Welsh   
Age:
21   
Gender:
Female   
Appearance:
Spoiler:
Main OC:
April May   
Relation:
Step Sister   
Personality:


Maki is not the birghtest spark, she can think and stuff but damn this girl is stupid.

She hates people that get in her way, she can get angry quickly and can easily strike someone.

She is able to play the victim, manipulative just like her mother.

Maki shows love to her pokemon

Sometimes she can feel guilty about what shes doing but her mother has control over her.

History:
The basics of this history you can figure out for yourself, as the daughter of Jessica she seems to have taken after her knowing about all her plans. She now follows her mothers orders and is ready to strike any one who gets in there way down.
   Pokémon

Pokémon:
Stunky   
Nickname:
Gender:
Female   
Level:
11   
Moves:
Start - Scratch - Start - Focus Energy - 4 - Poison gas - 7 - screech - 10 - Fury Swipes - EM - Flame Burst - TM - Shadow Ball.   
Ability:
Aftermath - If fainted from contact based move opponent pokemon loses 1/4th health.    
Personality:
Stunky seems to be affectionate to her trainer and determined. It goes to show not every bad guy treats pokemon like dirt.